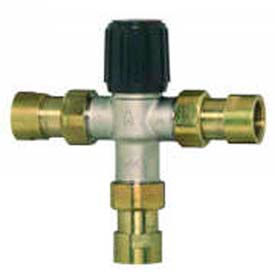 See all 24 items in product family
New LEAD-FREE Thermostatic Mixing Valves Are Designed For Easy Maintenance And Element Replacement.

Thermostatic Mixing Valves are made with a nickel-plated brass construction and EPDM O-rings for long lasting durability. Honeywell AM-1 series accurately adjusts, maintains and limits hot water temperature to desired setting selected by user. Offers scalding protection and bacteria growth control in domestic water applications. Installing valve and raising water heater storage temperature setting, limits mixed outlet water temperature to safe temperature so more usable hot water is available. Provides comfort and protects equipment in heating applications. Teflon ® coating of internal valve components to prevent mineral build-up and extend life. Tamper resistant design. Valve trapping not required. Available types are Mixing Valve, Sweat Union Mixing Valve, Union Mixing Valve, Union Mixing Valve (Heat Only), Union Sweat Mixing Valve and Union Sweat Mixing Valve (Heat Only) . Pipe sizes are 1/2 in., 3/4 in. and 1 in. . Dimensions are 6 in. L x 3.5 in. W x 3.5 in H and 6 in. L x 3.5 in. W x 3.5 in. H.


Click for more