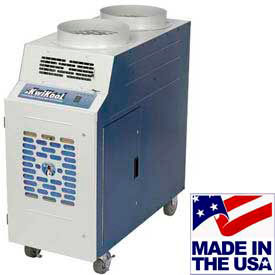 See all 1 items in product family
Kwikool Industrial Portable Air Conditioners Provide Reliable Climate Control In A Variety Of Commercial, Industrial And Professional Environments.

Kwikool Industrial Portable Air Conditioners are designed for economical spot cooling in industrial plants, server rooms, greenhouses, hospitals and offices, and especially where electrical equipment creates a heat load. Portable AC's relocate using 4 casters, 2 swivel with brakes and 2 ridgid. Available systems are Air and Water. Cooling square feet ranges from 400-4000. Cooling BTUs range from 13,600 to 120,000. 1, 2 and 3 speed models available. CFM highs, volts and dimensions vary per model. ETL listed.


Click for more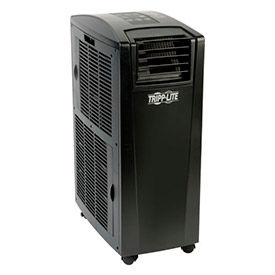 See all 5 items in product family
Tripp Lite SmartRack Portable Air Conditioners Are Used In Data Centers, Server And Wiring Closets, IT Environments, Conference Rooms, Home And Small Business Offices And More.

Tripp Lite SmartRack Portable Air Conditioners are perfect for venues or areas with heat-sensitive equipment, particularly in areas that facility air conditioning can't reach. Available styles include 12,000 BTU 120V or 230V Portable AC, 33,000 BTU 200-240V Row-Based AC w/Hardwire Input or w/L6-30P Input Plug and 7,000 BTU 120V Rack-Mounted AC Unit. ACs adjust to ambient room temperatures, dehumidify and filter the air to provide better air quality for enhanced equipment performance with minimal noise and power consumption. Built-in evaporator expels condensed water through exhaust duct, eliminating the need for a drain tube, drain pan or water collection tank. Standard louvered vent provides general room cooling, and directional ducted cooling vent directs cold air where it is needed. Directional exhaust duct safely removes hot air from the room, and auto-restart feature retains all system settings and returns the unit back to its last operational state after AC power is restored. Built-in timer enables programming for unattended start-up and shutdown. Controls and displays are conveniently mounted on the top panel. Optional communication port allows users to monitor temperatures, receive alerts, review logs and control settings from any location. Built-in casters provide mobility and easy imstallation. Window/drop ceiling kit (included) provides multiple installation options. Environmentally friendly R410a refrigerant; EPA standards for 2010 and beyond compliant. Cooling BTUs are 7,000, 12,000 and 33,000. Dimensions vary per unit.


Click for more