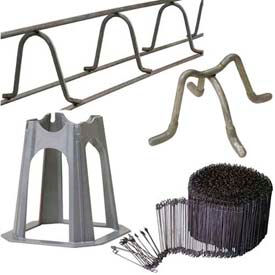 See all 14 items in product family
Concrete Accessories Are Used For Residential, Commercial, and Industrial construction Aplications.

Concrete Accessories are made of flexible plastic or metal for long lasting durability. Rebar and Reinforcing wire supports, Rebar caps (OSHA and non OSHA approved) stakes, and snap ties can be used for highway, street, airport runway, sidewalk and driveway projects. Available in Bar Support, Concrete Reinforcing Chairs, High Chair, Nail Stakes, Rod Chair, Safety Caps and Snap Ties. Sizes vary per item.


Click for more