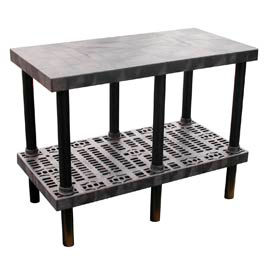 Plastic Work Benches
Plastic Work Benches Are Easy To Set Up And Take Down Where And When You Need Them.

Plastic work benches easily set up in minutes to create an instant temporary or permanent island of productivity within any warehouse manufacturing floor or office environment. Made using rigid high-density polyethylene. Strong 2-5/8" thick shelves and 2-3/8" diameter posts interlock together to form a rigid assembly. Posts feature a unique locking collar system for installation. Grid Top Benches are used for when work produces small scrap that can clutter work surfaces. Solid Top Benches are used for tough jobs that require a clean, flat work surface. Easy assembly.