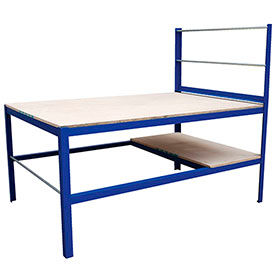 Multi-Purpose Packaging Workbench
Multi-Purpose Packaging Workbench Provides a Convenient Work Surface For Assembly Lines, Packaging Areas, Warehouses, and more.

This multi-purpose packaging workbench is designed as a large, easily accessible work area for the preparation, wrapping, and packaging of various content and materials. The hardboard square edge surface is useful for handling both fragile and durable items making it an optimal work surface for any application. The workbench has an elevated tower for storing and dispensing packaging paper, stretch wrap, and bubble wrap with a third reel under the bench for extra material storage. The lower shelf is designed as out of the way storage for boxes, tape, tools, and other materials. The steel frame construction provides strength and reliability for heavy duty working conditions. The bench holds rolls up to 44"W and 20" diameter. The color finish is Blue. The dimensions are 72"L x 48"W x 34"H.