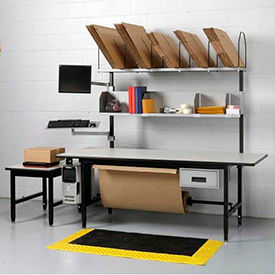 Dehnco Complete Packaging Workbenches
Dehnco Complete Packaging Workbenches are used for Roll Packaging Applications in Warehouses and Fulfillment Centers.

Dehnco Complete Packaging Workbenches are designed to specific ergonomic standards. The rolls can be stored above or below the table within easy reach of the packer, and the overhead carton storage and the middle level closed back document shelf provides storage for cartons and supplies. Rotary cutting system and roll storage system make storing and dispensing roll packing materials fast and efficient. Additional modules can be added to the system for increased storage of materials, supplies, and equipment. Adjustable in height from 29" to 36" to accommodate individual workers. Available table tops include Plastic Laminate Safety Edge, Maple Butcher Block Safety Edge, Steel Safety Edge, and ESD Safety Edge. All sheet metal components are 14-16 gauge steel for lasting durability. Packing Tables support up to 1800 lbs. All tables and benches have rounded edges with inlaid t-molded vinyl edges for protection and added safety. Attachments included with unit vary per model. Widths are 68", 72" and 83". Depths are 33" and 36".