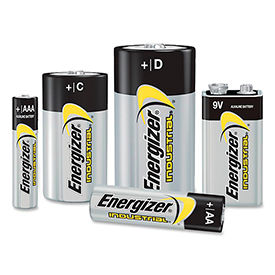 Energizer® Industrial Alkaline Batteries
Industrial Alkaline Batteries Provide An Economical Solution For Powering Modern Devices That Demand High Power & Heavy Use.

Industrial Alkaline batteries are made with a Zinc-Manganese Dioxide chemical system. Operating temperature of 0°F to 130°F. Offers a shelf life of 10 years (5 Years for 9V) at 21°C. 1.5 nominal voltage; except for 9V battery with 9.0 volts. Meets ANSI-15A, IEC-LR6 standards.