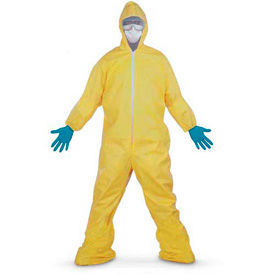 HazMat Personal Protection Coverall Kits
HazMat Personal Protective Kits Are Designed For Safe And Secure Protection In A Variety Of Contaminated Areas.

HazMat Personal Protective Kits are made for long lasting reliability and dependability. Features a hooded coverall suit for maximum body coverage against contamination. Non-porous construction for enhanced performance. Includes slip-resistant booties for greater safety. Nitrile gloves for ease of use. Goggles and mask provide added protection. Colors are Blue, White or Yellow. Available in a variety of sizes. Package quantity is 1.