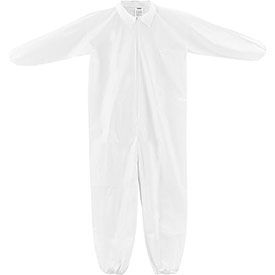 Global Industrial Disposable Coveralls
Global Industrial Disposable Coveralls Are Available in Polypropylene and Microporous Styles Providing Full Body Protection For User Safety.

The polypropylene coveralls ensure effective, low cost garment protection against non-hazardous dry particulates such as dust, dirt, and debris for various environments including hospitals, food processing plants, and general industrial applications. The breathable, microporous coveralls provide all day user comfort and full body safety against non-hazardous particles, light splashes, and aerosols for automotive refinishing, waste management, remediation, and more. Includes a zipper front closure. Choose from styles with Open Wrists and Ankles, Elastic Wrists and Ankles, Attached Hoods, and/or Boots. Available sizes range from S-2XL. Available in White. Sold in package quantities of 25.