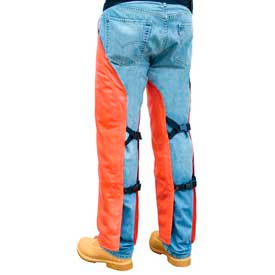 See all 15 items in product family
"Elvex® Chain Saw Protective Clothing Features Explosive Padding That Effectively Jams Chain To Stop Cutting Action In Milliseconds.

Elvex® Chain Saw Protective Clothing is constructed of 420 denier nylon, leather, and suede material for long lasting durability and strength. Protective padding helps prevent accidents if chain saw slips while in operation. Apron-style patented asymmetrical waterproof chaps allow for extra protection for the left side of both legs. Cowhide gloves include protective padding on the back of the left hand only. Available styles are Apron Style Chaps, Leather Palm Gloves, and Wrap-Around Calf Protection Chaps. Sizes are 33""L, 36""L, 39""L, and Large. Colors are Blue/Orange and Orange.


Click for more