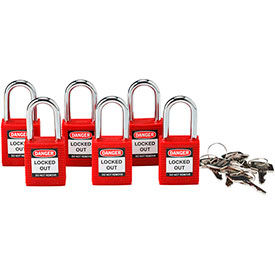 Brady Safety Lockout Padlocks
Brady Safety Lockout Padlocks Ensure Theft Prevention For Security, Commercial, Construction, and Other Applications.
Brady safety lockout padlocks are designed to deter unauthorized access for lockers, equipment, machinery, and more. Padlocks units feature aluminum, steel, or nylon construction for strong chemical and corrosion resistance. The tamper-resistant, 6-pin cylinders are keyed differently for improved content security. Hardened steel shackles provide added strength against break-ins and forced entry. Lightweight design provides easy handling and transport. Most models are OSHA approved. Colors, package quantities, and additional specifications vary per model.
Steel, Aluminum, Nylon, and Plastic
Lightweight design
Available styles include ABUS® Aluminum Padlock, Cable Lockout Padlock, Compact Safety Lock, and more