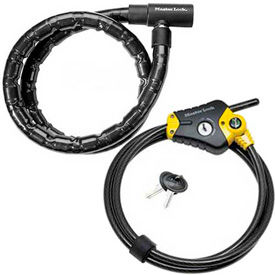 Cables and Cable Locks
Cables and Cable Locks Ensure Theft Protection and Security for Bicycles, ATV's, Tools, and more.

These cables and cable locks are designed to safely secure your equipment and prevent theft. The locks and cables are made of steel, polypropylene, or nylon making them strong and durable for lasting reliability. The protective coating around the cable prevents scratching and exterior damage. Some models have a built in locking mechanism for added security. Available styles include Adjustable Locking Cable, Cable and Cable Lock, Cuff Lock, Flexible Loop Cable, Keyed Cable Lock, Steel Cable, and Vinyl Coating Cable w/Lock. Available colors vary per model. Lock types are Adjustable Lock, Combination Lock, Cylinder Lock, Directional Combo Lock, Disc Brake Lock, Keyless Lock, No Lock, and Padlock. Assorted colors include Red, Black, Orange, Clear, Green/Black, Blue, Gray, Black/Yellow, and Steel. Other dimensions vary by style.