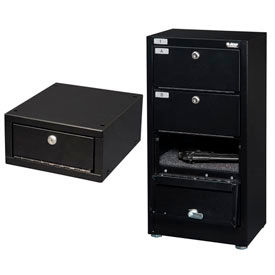 Datum Argos Pistol Security Cabinets
Datun Argus Pistol Security Cabinets Keep Pistols And Other Firearms Safe And Secure.

Datum Argos Pistol Safes are made of steel to provide long lasting durability and maximum protection for pistols. Available styles are Single Tier, 4- and 6-Tier. Foam insert included to protect stored items. Capacities are 2, 8 and 12 pistols. Lock types are Hasp (padlock not included) and Key Lock/Keyed Different. Gun safes must be wall mounted for structural safety. Available color finishes are Battleship Gray, Desert Sand and Stealth. Dimensions vary per model.