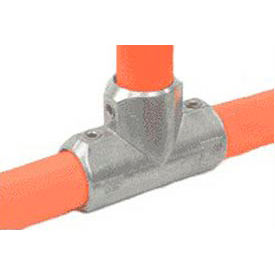 Aluminum Magnesium Kee Klamp™ Pipe Fittings
Pipe Fittings Help Create Strong Rigid Structures Such As Railings, Racks, Framing, Fencing And More!
No threading or welding required! Build strong rigid structures: railings, racks, awning frames, fencing and 1,001 other applications. Build your own rack, guard rails, tables, etc. Long lasting aluminum fittings are manufactured from high-grade aluminum silicon magnesium and provide lightweight corrosion resistant esthetic look. Use with standard 3/4" to 1 1/2" pipe. Set-screw carries a vertical ultimate load of up to 2000 lbs. Allen wrench is the only tool you need.
All Fittings Designed To Use with Schedule 40 Pipe
Pipe/Fitting Sizes
| | | | |
| --- | --- | --- | --- |
| Pipe Size Inches | Pipe O.D. | Fitting I.D. | Fitting Pipe No. |
| 3/4" | 1.05 | 1.09 | 5 |
| 1" | 1.315 | 1.375 | 6 |
| 1-1/4" | 1.66 | 1.72 | 7 |
| 1-1/2" | 1.90 | 1.94 | 8 |
| 2" | 2.375 | 2.440 | 9 |
Click for Sizing Details