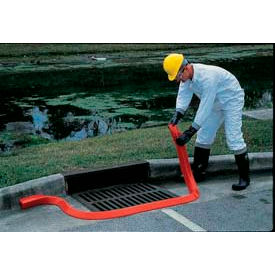 Flexible Spill Berms
Flexible Spill Berms Are Used For Spill Response, Temporary Secondary Containment, And Sealing Off Doorways During Washdown Operations.

Spill Berms are made with a urethane material that "weeps" into small cracks and crevices to seal off liquid flow. Berms are non-absorbing and are easily cleaned for repeated use. Standard 10-foot sections can be cut to meet custom needs. Flexible Spill Berm will bend and form to almost any shape while temporarily "bonding" to any smooth surface. Helps comply with NPDES and SPCC. Cleans with soap and water. Spill Berm lengths are 4, 5, and 10. Available in Black, Orange and Green.