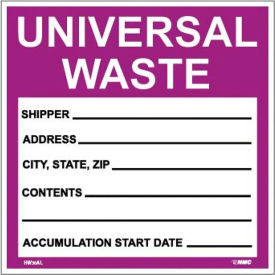 Hazardous Waste Labels
Hazardous Waste Labels Provide Content Awareness For Contaminated or Unsafe Compositions.

Hazardous waste labels maintain safety by clearly labeling all hazardous waste containers. Select waste labels comply with current EPA and DOT regulations. D.O.T. (49 CFR part 172) and EPA (40 CFR part 262) require labeling substance containers for hazardous waste. Bright color design and large font allow high visibility at a distance. Most models are suitable for indoor/outdoor locations and strongly adhere to both flat and curved surfaces. Package quantities and additional specifications vary per model.