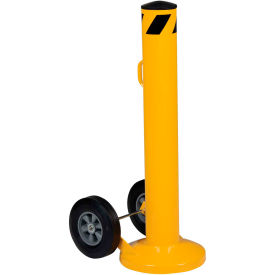 Removable Protective Bollards
Choose Special Designed Bollards To Meet Your Needs - Removable Bollard; Movable Bollard or Shelf Storing Bollard.

Durable steel bollard with yellow powder coated finish. Removable Bollard includes mounting sleeve that can be set in concrete to hold bollard. Bollard easily detaches from sleeve to allow access into blocked off area. Movable Bollard features two 10 diameter mold-on rubber wheels for easy mobility where you need it. Used for temporary applications. Self Storing Bollard is designed to slide down into the ground or floor when not needed. Includes sleeve that sets into ground with concrete. Bollard includes a handle on top for easy lifting and lowering. Simply lift and twist for raised position. Includes padlockable tab for security (lock sold separately).