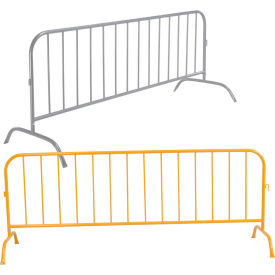 Metal Crowd Control Barrier
Metal Crowd Control BarriersWard Away Pedestrians and Join Together to Create Extended Barrier Lengths.

Metal Crowd Control Barriers are welded steel crowd control barriers designed to block out access. Safety barriers are easy to transport when assembled, and include removable feet that allow flat stacking for space efficient shipment and storage. Each barricade section includes couplers to join units in runs of any length. Barriers measure 102"L x 40"H overall with 5-1/4" spaces in between vertical bars. Security barriers are available with Galvanized or Safety Yellow Powder Coat Finish. Standard Barricades are constructed of 1-1/4" diameter tubular steel; Heavy Duty Barricades are constructed of 1-5/8" diameter tubular steel. Dimensions vary per model.