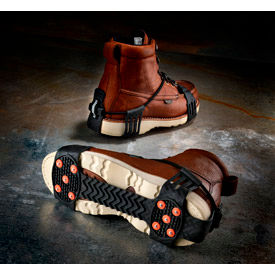 Trex™ Ice Traction Devices
Trex™ Ice Traction Devices Ensure Grip and Prevent Slippage In Icy Conditions.

These devices are made of rubber for comfort and long lasting durability. Devices stretch over shoes to create traction to provide stability while walking in ice or snow. Steel studs provide tenacious grip and additional stability. Stretchable for easy on/off. Flexible to -40°C (-40°F). Available styles are Trex Adjustable Ice Traction Device, Aggressive Spike Ice Traction Device, One Piece Traction Device. Trex Strap On Heel Ice Traction Device and Trex Ice Traction Device. Color is Black. Sizes vary from Small to 2XL. Replacement studs can be purchased separately. Studs available in Yellow.