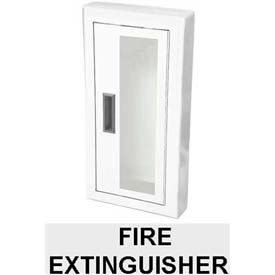 Activar Inc. Fire-Rated Fire Extinguisher Cabinets
Activar Fire-Rated Fire Extinguisher Cabinets Provide Convenient Extinguisher Storage, Visibility, and Access in Schools, Corporate Buildings, and more.

These cabinets are solidly manufactured of Cold Rolled Steel (CRS) with Aluminum or Stainless Steel trim for long lasting durability and dependability. Choose from a wide selection of styles, types and trims. Academy Series has clear anodized aluminum trim and door. Ambassador Series has powder coated cold rolled steel tub, trim and door. Clear Vu Series features clear acrylic bubble door. Cosmopolitan Series has stainless steel trim and door. All series styles are available in a variety of types including Solid Door, Full Acrylic Window and Vertical Acrylic Window. Trims are Flat, Rolled, Square and Surface Mount. Cabinets are 4, 5-1/2 and 6 inches in depth. All are Warnock Hersey listed for fire-rated wall assemblies.