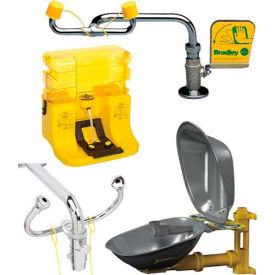 Bradley Eyewash Stations
Bradley Eyewash Stations Provide Emergency Eye Protection For First Aid and Safety Compliance.

Bradley eyewash stations are suitable for warehouses and other facilities. Variety of styles are available to meet job demands and requirements. Styles include space saving designs, right hand mount, pedestal mount, wall mount, and more. Most models areANSI Standard Z358.1 compliant. Variety of types are available. Available Bowl Materials are Plastic and Stainless Steel. Models feature chrome plated brass, stainless steel, and other high quality materials for lasting durability and performance. Sizes and mount types vary per style. Limited Warranty and additional specifications vary per model.