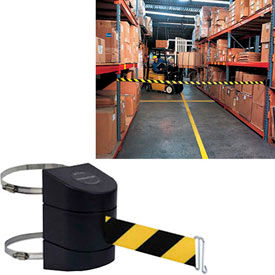 Warehouse Retractable Barriers
Warehouse Retractable Barriers Are Used for Applications Including Commercial, Industrial, Storage, And More.

Warehouse retractable barriers are made of steel and plastic for long lasting durability and dependability. Barriers accommodate periodic access area restriction while minimizing footprint. Self-retracting belt prevents unraveling and stores conveniently. Belt end attaches around uprights and posts where wall receivers are not possible. Includes wire clip belt for accidental tape release prevention. Features yellow stripes for high visibility. Attachments are Magnetic, Metal Clamp, Rack Clip, and Speed Hook. Package quantity is 1. Color is Black/Yellow. Dimensions vary per model.