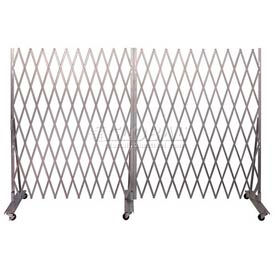 Expandable Folding Security Gates
Expandable Security Gates Offer Add-On Attachments That Extend The Overall Width To Provide Efficient Security For Large, Extra Wide Areas.

Folding security gates are made of galvanized steel for corrosion resistance. Steel rivets on 14 gauge steel web gates allow easy folding and expanding. Gates provide a coverage area of up to 12'L when open, and closes to only 27"L, using two 6'L webbing sections. 12 gauge angled steel axle posts are 1-1/2 x 1-1/2 and reinforced for extra strength. Gates include three 28 D axles that offer 4 sweep clearance. Axle posts on each end include a locking bar and padlockable hasp (lock sold separately) to secure gates in folded position. Moves easily on six 3 rubber casters. Add-On Gates include one axle post with 2 casters and a mounting post that easily attaches to end posts.