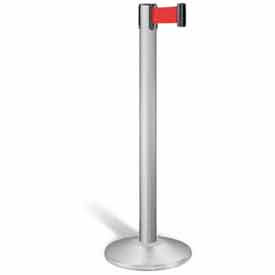 Lavi Industries Beltrac® Contempo Stanchions
Beltrac® Contempo Stanchions Are Used For Airports, Banks, Museums And Other Public Venues Requiring Crowd Control.

Beltrac® Contempo Stanchions are made of steel for long lasting durability. Features a centrifugal belt-braking system that ensures safe operation. 12-1/2 inch round or 14 inch sloped base is made of cast iron for greater stability and support. 4-way dovetail grooves allow for multiple stanchion connections for enhanced versatility. Base is rubberized to prevent damage to floor for added protection. Post colors are Polished Stainless Steel or Satin Stainless Steel. Height is 40 inch. Belt colors vary per model.