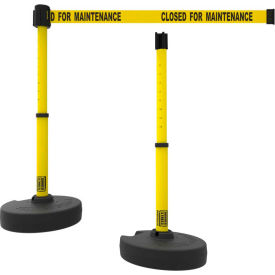 Banner Stake Barriers
Banner Stake Barriers Create Easy-To-Use Crowd Control Devices With Clear Messages For Public Safety, Pedestrians, Personnel, Workers And Motorists.

Banner stake barriers help reduce risk of injury, accidents and liability.Banner Stakes are stanchions that feature a twin stake design for easy installation in hard soil, clay and other in-ground applications. Durable rust-proof plastic post is height adjustable up to 42"H using a twist lock. Banner Bases convert in-ground stakes to maneuverable freestanding posts by filling base with water or sand for added stability in indoor or outdoor environments with hard floor surfaces. Banner Heads are interchangeable and easily attach to top of banner stakes. Banner heads include one 12'L or 15'L retractable belt tape and 3 receiver slots for customizable configurations. Belt tape is made with black lettering on heavy duty woven polyester fabric that won't fray or pucker for lasting reliability. Barrier system sets include 1 Banner Head, 1 Stanchion and 1 Base. Types are available in Standard or PLUS series, which features a push pin lock. Colors and messages vary per model.