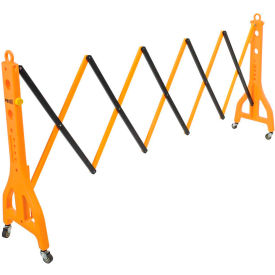 Portable Plastic Pedestrian Barricade Gates
Portable Plastic Pedestrian Barricade Gates are Lightweight and Quickly Unfold to Create Barricades.

Portable plastic pedestrian barricade gates are designed for sidewalks, elevators, and more. Barricades expand and close easily for quick set up and compact storage. Interlocking ends can be connected to join multiple security gates and form longer runs. Select models offer high level heat resistance. Sturdy polyethylene and plastic construction provides lasting durability. Select models feature delineator slots for optional barricade tape or reflection tape installation. Available styles include Fill Chamber, Barricade w/Two Lights On Top, Multi-Gate Expandable Barricade with Connector, and more. Styles available with casters or without casters. Expanded lengths are 6", 90", 122", 137", and 139". Folded lengths vary per model. Available colors are Orange/White, Red, and Yellow/Black. Dimensions and additional specifications vary per model.