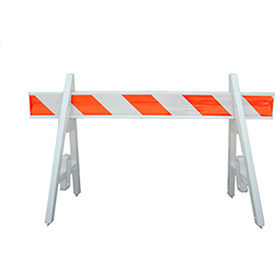 Portable High Visibility Safety Barricade
Portable High Visibility Safety Barricades Provide Traffic Control and Protection For Workers.

Portable high visibility safety barricades are easy to store and set up to help direct traffic or limit access indoors or outdoors. A-Frame Only units feature plastic polyethylene legs that withstand repeated impact and accept mount flashing lights (lights sold separately). Traffic Barricades provide impact resistant barrier protection that is both resistant to corrosion and rust. The unique I-Beam design assures extra rigidity and protects the reflective sheeting. Some units feature beams that include high visibility reflective engineer grade sheets on both sides. Easy to set up and take down, lay flat to store and to transport. Barricade legs can be internally ballasted with sand for added stabilization. Most safety barricades meet MUTC standards. Additional specifications vary per model.