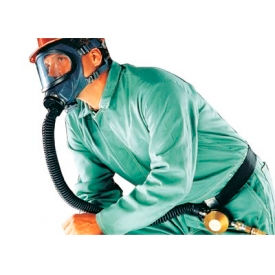 3M™ Powered Air Purifying Respirators
3M™ Powered Air And Supplied Air Systems Provide Excellent Vision And Respiratory Protection For Work In Extreme Temperatures, Rescue Operations, Building Demolition And More.

Powered Air And Supplied Air Systems help purify air circulation in extreme work environments. Available styles include Air Respirator-Belt, Batteries, Battery Pack, PAPR Assembly, PAPR Healthcare System, PAPR Respirator, PAPR System and Respirator. Styles provide integrated suspension for wide vision, improved airflow distribution and moisture protection. Some models are equipped with powerful motors for high air flow rates, exceeding NIOSH requirements. Respirators prevent contaminants from leaking in and around facepiece. Dimensions vary per style.