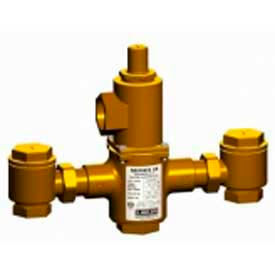 Thermostatic Mixing Valves
Thermostatic Mixing Valves Are Used For Ensuring Constant, Safe Shower And Bath Outlet Temperatures.

Mixing Valves are made of solid Lead Free Brass, Brass with Chrome Plated Finish or Cast Bronze for long lasting durability and dependability. Provide tempered water for medium to large capacity applications in a single valve unit. From 1 to 200 gallons per minute @ 45 psi (1/2 gpm when properly installed in a recirculated system). Protection from scalding upon failure of the thermostat, shut-off of hot water or shut-off of cold water. Lawler Models meet ASSE 1017 standards, while Zurn Models meet ASSE 1070 (among other certifications). Bradley models have various ANSI certifications. Single valve is easier to install, easier to maintain and more cost efficient than multi-valve systems. Available in 25, 50, 80, 125, 150 or 200 maximum gpm units.