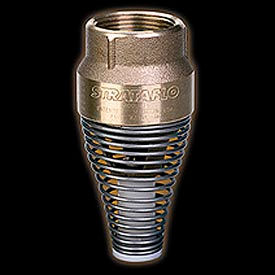 Brass Foot Valves With Rubber Poppets
Brass Foot Valves With Rubber Poppets Are Used For Any Shallow Well Or Jet-Type Pumping Unit.

Valves are made from a one-piece brass body for lasting durability and strength. Valves feature a unique strainer consisting of helically-wound stainless steel spring wire for durability and corrosion prevention. Valves are self-cleaning due to pump operation causing continuous motion of spring coil. Foot valves feature no internal springs, low flow resistance and low loss of head. 200 lb. working pressure with 225°F maximum temperature. Taper-type silicone-treated poppets, made with flexible rubber and reinforced with a metal insert. Poppets operate noiselessly and hold their seal tightly, but are easily opened. NSF® Listed Models provide the same sizes and specifications listed above made from material containing 0.25% lead or less. Available in a variety of sizes.