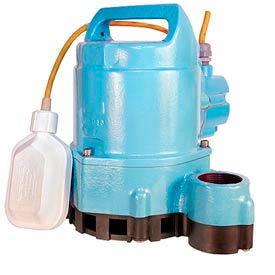 High Temperature Submersible Effluent Pumps
High Temperature Submersible Effluent Pumps Are Designed For Light Commercial and Industrial Liquid Waste Transfer or Circulation Applications.

High temperature submersible effluent pumps are suitable for plumbing applications in need of moving greywater.Little Giant® brand pumps can be used to transfer or circulate wastewater up to 200° Fahrenheit and can handle 3/4 inch solids. Continuous duty rated. Available in Manual model or Automatic model with an integral float switch that has a 10 to 12 inch "on" level and 2 to 4 inch "off" level. Zoeller brand automatic pump features float operated mechanical switch box mounted on discharge pipe above the operating level. Switch types are Automatic, Integral Mechanical Float, Manual, and Piggyback Wide Angle. Select models feature a mechanical seal with NI-Resist rotary face and high temperature Viton® gaskets. Corrosion-resistant powder coated epoxy finish. Additional specifications vary per model.