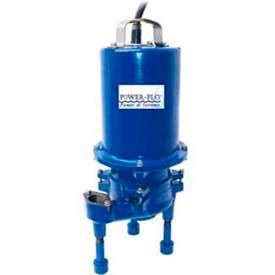 Submersible Grinder Pumps
Submersible Grinder Pumps Allow Grinding of Household Waste Mixed In With Wastewater.

Submersible grinder pumps come in a variety of sizes and power levels to suit a range of grinding and pumping jobs. Available power levels are 4/10HP up to 5 HP, with maximum flow rates of up to 106 GPM. Submersible grinder pumps are available in a variety of switch types, connection sizes and voltages. Submersible grinder pumps are offered from several trusted brand names. Available Cord lengths are 10, 15, 20, 25, and 30 foot. Available Discharge Connections are 1-1-/4 and 2". Available Discharge Types are FNPT,NPT, and Schedule 80 PVC Discharge Pipe. Additional specifications vary per model.