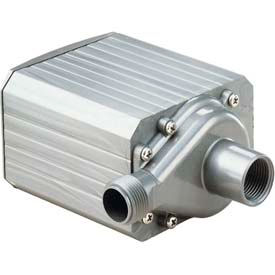 Danner Magnetic Drive Utilility Pumps
Danner Freshwater/Saltwater Pond Utility Pumps Provides Energy Efficient, Quiet And Reliable 24/7 Performance.

Danner Freshwater/Saltwater Pond Utility Pumps are constructed with an epoxy encased power unit, high quality magnets, ceramic impeller and heavy duty copper winding, corrosion-proof fasteners and foam pre-filter for long lasting durability. Employs magnetic drive technology to achieve performance. Runs continuously without seals to wear out. Used in saltwater or freshwater environments and operate equally well in-line or submerged. Only one moving part eliminates contaminating water with harmful oils or chemicals. Design simplicity ensures minimal maintenance. UL Listed in USA and CA. Available GPHs are 65 to 2,400. Suction/draw head sizes are 2'6" to 17' 6". Cord lengths are 6', 10' and 18'. Color finishes are Gray and Black. Amps, watts, connation inlets/outlets and sizes vary per model. 5 Year Limited Warranty On Pump.