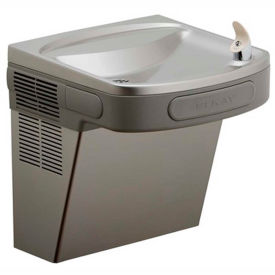 Wall Mount ADA Barrier-Free Water Coolers
Wall Mount ADA Barrier-Free Water Coolers Provide Accessible Drinking Water in Schools, Sporting Arenas, Parks, and more.

Water coolers meet adult and child ADA standards when properly installed. Fountains feature a universal structure for easy installation into existing plumbing systems. Impact-resistant vinyl coating ensures lasting durability. The Flexi-Guard Anti-Microbial Safety Bubbler prevents growth of bacteria and is keyed into position to stay firmly in place. Each unit runs on 115 Volts and 5 Amps and delivers 8 Gallons Of Chilled Water Per Hour. Extra-deep basin minimizes splashback and features an integrated drain for easy maintenance.

Easy-Touch Pushbar controls require less than 3 pounds of force to activate. Mechanically Activated Pushbar models feature two push bars on the front of the unit and allow operation even during power disruption.Sensor models have a unique Hands-Free operation. Sensor bi-level units feature a lower cooler with Hands-Free operation and an upper unit with a pushbar activation.

Fountain system is completely free of lead-containing brass parts. Single or Bi-Level drinking fountains are available with or without filtration. Units With Glass Filler Options are Pre-drilled to accept filler. Certified to NSF/ANSI 61.