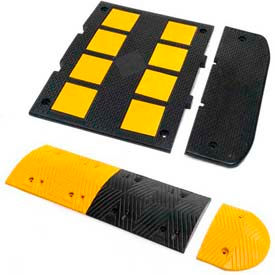 Rubber Speed Bump Kits
Rubber Speed Bumps Help Control Traffic and Reduce Speeds on Roads and Parking Lots for Schools, Offices, Parks and more.

Rubber Speed Bumps effectively slow traffic without tire or vehicle damage, ensuring safety in pedestrian-heavy areas. Speed bumps are made using 100% recycled molded rubber that is lightweight, flexible and conforms to contours of road surface for long lasting durability. Easily installs on concrete or asphalt for temporary or permanent use. Built to withstand over 2,000 PSI pressure. Will not chip, break or crack. Bumps provide maximum visibility without need of repainting for low maintenance care. Optional speed bump ends sold separately. Speed bumps are available for 0-5 MPH, 5-10 MPH and 10-15 MPH zones. Includes 2-Year Limited Warranty. Dimensions vary per model.

Note: The lag bolts (Model # B770133) for removable installation and galvanized spikes (Model # B770134) for permanent installation are sold separately.