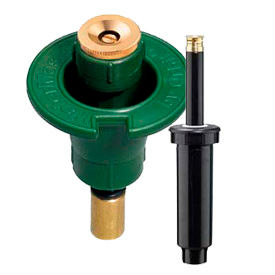 Orbit® Sprinkler Heads
Orbit® Irrigation Sprinkler Heads Are Used For Residential And Commercial Lawn Care And Maintenance.

Orbit® Irrigation Sprinkler Heads are made with high quality plastic bodies with solid brass nozzles for long lasting durability and dependability. Pop-Up heads are used for smaller sized lawns and for sprinklers bordering sidewalks or driveways. The hard top protects the sprinkler where frequent contact with tires and lawn equipment are common. Twin Spray heads provide a full distance spray combined with under spray pattern for uniform watering and fewer brown spots. Sprinkler heads are available in 360°, 180° and 90° turning patterns. Spray distance is 10 to 15 feet. Super Jet® Impact in Canister model provides area coverage of up to 35 feet in diameter.