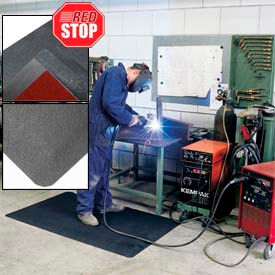 NOTRAX® RedStop™ Anti-Fatigue Safety Mats
Anti-Fatigue Safety Mats Are Used For Fatigue Relief In High-Traffic Work Cells.
Anti fatigue mats measure 1/2" or 1" thick and feature
Pebble Trax™, Pebble Trax™ Grande™, Ergo Mat™,
and
Ergo Mat™ Grande™
top surface made of SBR rubber. Rubber top resists exposure to sparks from welding. Easy-to-clean top surface. Used for multishift environments. Dense closed-cell foam base utilizes NOTRAX® RedStop™ exclusive UniFusion™ technology that eliminates slipping and sliding of mats. RedStop™ helps anchor mat in place without leaving a tacky or sticky residue. RedStop™ matting is guaranteed for the life of the mat. Sloped beveled foam on all 4 undersides provides added safety. Available in a variety of sizes.
Ergo Mat-Rubber corrugated ribbed top surface with directional traction
Pebble Trax offers non-directional pebble embossed surface
RedStop™ prevents mat slippage on smooth surfaces