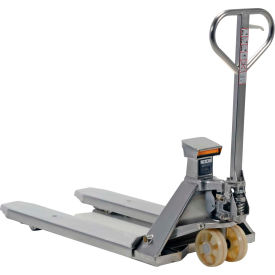 Stainless Steel Pallet Jack Scale Truck
Stainless Steel Pallet Jack Scale Truck Weighs and Moves Pallet Loads in Sanitary or Wet Environments.

Stainless Steel Pallet Jack Scale Truck allows you to weigh your load on the spot for maximum efficiency. The entire truck is manufactured from Type 304 stainless steel making it suitable for pharmaceutical, medical and food service applications. Built-in scale allows you to weigh the load you are handling and is selectable in a variety of increments to adjust to the size of your load. Scale has keyboard calibration and functional setup with automatic zero capabilities and scale read-out includes tare feature which can be displayed in English or Metric readings. Digital filtering is used to help compensate for vibration and motion. Scale is powered by (4) standard C-cell batteries or the included 110V AC power adaptor. Truck has a spring-loaded handle with a three position lever control (Raise, Lower, Neutral) for easy operation and maneuvering. Pallet Truck features 7" wide forks with entry rollers and includes two 7" nylon steer wheels and two 3" nylon load wheels.