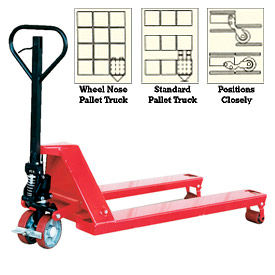 Wheel Nose Pallet Jack Truck
Wheel Nose Pallet Jack Truck Positions or Retrieves Pallets or Skids stored closely in a row.

Wheel Nose Pallet Jack Truck features a unique design that allows tight positioning of pallets end-to-end. The fork ends are set back from the front load rollers, exposing the rollers, allowing closely positioned pallets to be picked up and moved. The unit has a spring-loaded rubber grip handle with a three position lever control (Raise, Lower, Neutral) for easy operation and maneuvering. Skid Truck includes two articulating 7-¾" polyurethane steer wheels and two 2-¾" polyurethane load wheels.