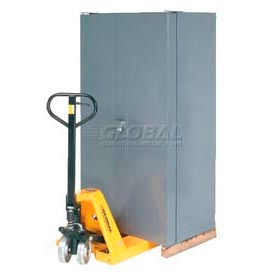 11,000 Lb. Capacity Pallet Jack Truck
Pallet Truck Lifts and Moves 11,000 Lbs.!

This High Capacity Pallet Jack has a rugged, double-channel reinforced structural steel frame that handles loads up to 5-1/2 tons! The solid steel pump mount and extra heavy-duty pump with high-pressure seals and a hardened chrome-plated piston provides years of service. Adjustable solid steel tie rods maintain proper roll-ability of the Pallet Truck. Steel steer wheels and twin steel load rollers ensure secure load movement in the most rugged environments. Frame includes integral tow loops. The safety loop handle has 3-function hand control (Raise, Neutral, Lower). Tapered 23"W x 45-1/2"L forks. Durable powder coat finish. 2 Year Limited Warranty.