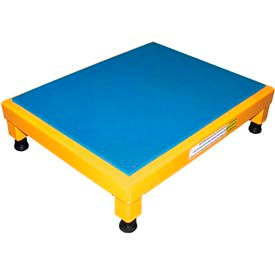 Adjustable Work-Mate & Step-Mate Stands
Adjustable Work-Mate and Step-Mate Stands Raise Operator To Machine Height For Minimizing Fatigue When Performing Repetitive Tasks.

Stands are made of aluminum and welded steel with a powder coated finish for long lasting durability. The stand elevates workers providing heights that are comfortable and ergonomically correct, especially when multiple shift employees operate the same piece of machinery. Leg heights can be adjusted individually to ensure proper working height. All sizes have four legs. Platforms available with and without ergonomic mat. Available colors include Stainless Steel, Aluminum, and Yellow. Dimensions vary per model.