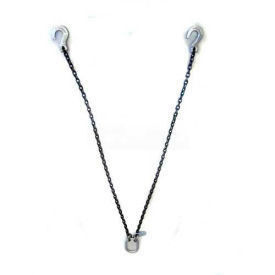 Chain Slings - Double Leg
Chain Slings - Double Leg Support Heavy Duty Content Lifting, Handling, and Support For Machine Shops, Distribution Centers, Warehouses, and more.

These chain slings are made of triple alloy steel that provides optimal strength-to-weight performance in harsh working conditions. The grade 100 chain is used as a sling component for heavy duty overhead lifting. Slings are individually serialized for traceability. Proof test certificates included. Hook types are Grab Hook, Sling Hook, and Slip Hook. Lengths range from 3' to 20'. Chain sizes are 9/32", 2/7", 3/8", and 1/2".