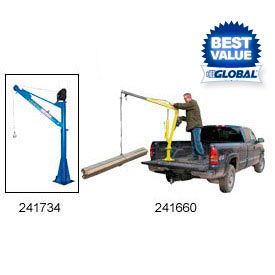 Pickup Truck & Trailer Jib Cranes
Lift Heavy Items Directly Into Your Pickup, Trailer Or Truck.

These jib cranes mount directly on the bed of a truck or trailer for easy product loading and unloading. Cranes rotate 360 degrees to access items from all sides and the telescopic boom extends for greater versatility. Truck cranes have a steel construction with a chip resistant painted or rust-resistant galvanized steel construction. Lift hook has safety latch.

Hand Crank Winch Cranes offer a convenient hand crank winch that raises or lowers the lifting hook, while the hand pump lifts the boom. 11' winch cable. 10-1/2" x 10-1/2" base plate has pre-drilled holes for easy mounting.

12V DC Powered Crane has 12V DC powered winch with 12'L power cord to attach to vehicle battery. Winch is operated by removable 8'L hand pendant control. Manually adjusted 3-position boom length. Boom angle can be manually set at 10, 25 and 40 degrees for added versatility. 25' winch cable. Includes 12" x 12" base plate with 10" x 10" hole pattern.