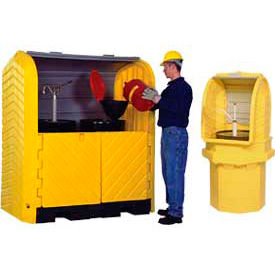 Indoor & Outdoor Spill Containment Units
Indoor and Outdoor Spill Containment Units Are Designed For Industrial and Construction Areas In Need of Containment Cleanup Stations.

Indoor and Outdoor Spill Containment Units provide added security for hazardous material storage and spill containment. Spill Containment Units are made of rust, corrosion and weather resistant polyethylene for lasting durability. Units designed for indoor and outdoor storage of 1 up to 4 drums. Units with roll-back top design allow for use in limited space or next to buildings where swing-open doors could be a problem, and provides easy access to drums pre-loaded on wooden pallets. Most units can be moved by forklift. Some models meet EPA container storage regulations. Overall dimensions vary per type.