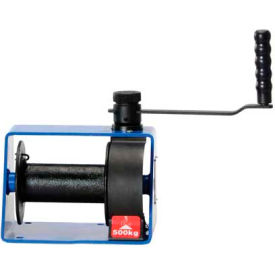 Hand Operated Winches
Hand Operated Winches are used for many Lifting, Lowering and Pulling Applications.

Standard Gear Drive Winch is equipped with a load pressure brake that holds the load at any required height during hoisting/lowering to prevent unintentional lowering of the load. An adjustable crank handle offers fast lifting of smaller loads, resulting in the lowest possible handle effort and rapid winding of the rope. All rotating parts are maintenance-free, and the winch is suitable for operation in ambient temperatures of 14° through 120°.

Worm Gear Winch allows for superior load control, and features a reinforced frame and comfortable grip handle. The worm gear provides load holding capability, as the reel stops automatically when the handle is released, locking the load in place. Crank handle can be adjusted in length to provide best torque for each lifting application. Winch housing and drum are made from robust steel plate with a durable enamel finish.

Note: Wire Rope is not included.