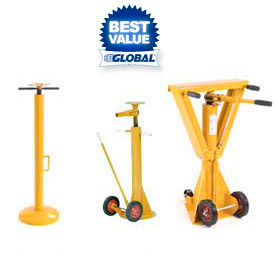 Trailer Stabilizing Jack Stands
Trailer Stabilizing Jack Stands Are Designed to Safely Load and Unload Trailers in Warehouses, Fleet Areas, and more.

Trailer Jacks help prevent upending Semi-Trailers when they are not connected to a Tractor during loading and unloading operations. Industrial Jack Stands can be used to level Trailers parked on sloped ground, and to prevent landing gear from sinking into a soft surface. Trailer Jacks can be used Singularly or in Pairs.

Trailer Stabilizer Jacks meet OSHA Requirements 1910.178(k) (3) that states: "Fixed Jacks may be necessary to support a Semi-Trailer and prevent upending during the loading or unloading when the Trailer is not coupled to a Tractor."