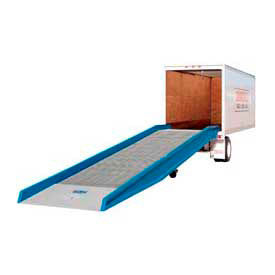 Bluff® Steel Forklift Yard Ramps
Bluff® Steel Forklift Yard Ramps provide easy Forklift or Pallet Truck Access to Freight in Minutes without requiring Dock Bays.

Bluff® Steel Forklift Yard Ramps help load and unload trucks and trailers at areas without docks (ground to truck), as well as from the dock level to the ground. All-welded, heavy-duty formed steel cross members and side girders form a superior frame. Beveled diamond plate steel approach provides a smooth transition. Open serrated steel grating Ramp surface provides superior traction while reducing dirt, rain and snow build-up. Yard Ramp features double-action hydraulic lift pump and 18" diameter solid rubber wheels to quickly move and raise ramp into position. Safety locking chains secure ramp to dock or trailer. Yard Ramps include 8"H curbs to help keep trucks and forklifts on the Ramp. 36'L Ramps feature a 6'L level-off zone at top of ramp for safe "dock to ground" or "truck to ground" access.

Choose Tow Bar style Yard Ramps that offer a fast hook-up for easy towing over long distances, or Ramp Clamp loops that allow forklift tine insertion points for moving over short distances. Other Capacities and Sizes available; Please call for pricing.