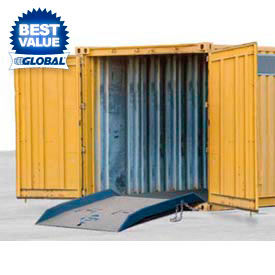 Bluff® Forklift Container Ramps
Bluff® Forklift Container Ramps Allow Ergonomic Entry and Access For Loading and Unloading Shipping Containers.

These Ramps allow you to safely access product in Shipping or Storage Containers in your yard with a forklift truck. Container Ramps allow safe navigation from the ground to the bed of the Container, and back to ground-level. Ramps feature a full-width stiffener which adds strength against the storage container, and a sturdy grab notch bracket is welded into the sides of the ramp. Container Dock Board features fold-down lifting loops that allow a forklift to transport and position, and include locking safety chains with a specially designed keeper that easily locks into the container. All-welded steel construction for high traffic cycles.

** The HT" DIFFERENCE UP is the height difference above ground-level.