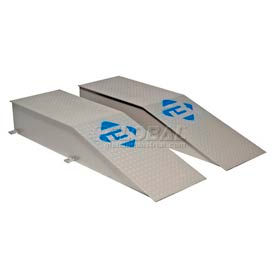 Bluff® Premium Steel Wheel Riser Ramps
Bluff® Premium Steel Wheel Riser Ramps Allow Ergonomic Material Loading and Unloading for Storage, Shipping, and Other Related Applications.

Riser ramps are the economical solution to level docks that are consistently too high for trucks. Ramps are designed to facilitate compliance with OSHA requirements for the 10% maximum grade of ascending or descending loaded forklifts. Wheel Risers feature 4 tabs with 9/16" diameter holes for permanent anchoring. Durable welded steel construction and Ramps feature a treadplate non-skid safety traction surface.

Risers are sold individually; 20,000 lb. capacity per riser (40,000 lbs. per pair).

Note: Dual wheels on semi-trailers are 18" wide, so the 24" wide Wheel Risers work best for this application.

Note: Use 30" Level L" for Single Axle applications and 84" Level L" for Tandem Axle applications.