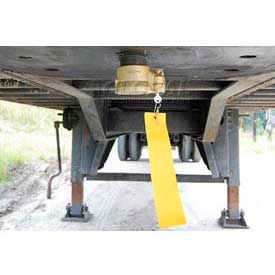 Trailer King Pin Locks
Trailer King Pin Locks Prevent Hijacking and Provide Security for Spotted Trailers and RV's

Trailer King Pin Locks are fifth wheel locks that have strong steel housing to fit over standard sized King Pin. This trailer theft deterrent device is shaped to prevent jamming the fifth wheel in case of inadvertent hook up. Cylinder lock prevents removal without key. Cup shaped iron casting keeps your hands clean. King pin locks include yellow safety flag. Lock w/Different Keys or Lock Keyed Alike. Note: Maximum Key Differential is Limited to 17 Individual Keys on Keyed Different Model.